森山メモリアル 名誉院長コラム Column by the Honorary Director of Moriyama Memorial Hospital
森山メモリアル病院 名誉院長の中島 進(なかじま すすむ)です。
当院の紹介は森山メモリアル病院のWEBサイトに掲載されているので、詳しくはそちらを見ていただくとして、この森山メモリアル名誉院長コラムでは、現在コロナ禍により需要が非常に高まっており、品薄とすらなっているパルスオキシメーターの原理開発者で2020年4月に逝去された日本光電の青柳卓雄さんと、その開発に携わり、実際の臨床の現場での使用例を世界で初めて学会発表・論文発表を行った研究者として、その正確な開発経緯を中心にコロナ禍において一般の方々が正しく使用するにはどんな注意が必要なのかを情報発信したいと思う。それ以外にも当院は旭川市内においてリハビリテーションと在宅医療を中心とした医療提供を行っており、それらについても小生の目線から情報発信を行いたい。
My name is Susumu Nakajima. I am the Honorary Director of Moriyama Memorial Hospital. (For more information on the hospital, please see the official website.)
In the midst of the COVID-19 pandemic, the demand for pulse oximeters is extremely high and thus causing short supply. The principal developer of the pulse oximeter is Takuo Aoyagi of Nihon Kohden who passed away last year. I was also involved in the development of the pulse oximeter and made academic presentations and published research papers about its application in clinical use for the first time in the world. Now, in this column, as a researcher, I would like to provide information on how to use the pulse oximeter correctly for the general public and non-medical professions. Moriyama Memorial Hospital is located in Asahikawa City and provides medical care centered on rehabilitation and at-home healthcare, and I also would like to share information about our hospital.
パルスオキシメーター開発経緯 Background to the development of the pulse oximeter
カルフォルニア大学 J.W.Severinghaus教授の来日と調査結果の報告 Report of survey results
1986年の暮れ。呼吸生理で有名な千葉大学医学部生理学の本田良行教授から突然の手紙が小生の所に届いた。実は本田教授が同じ年の7月にカナダのバンクーバーで開かれた国際生理学会に出席した際、旧知のカルフォルニア大学の麻酔科のSeveringhaus教授からパルスオキシメーターの起源について調べているので協力して欲しいとの事であった。
その際、パルスオキシメーターを発見したミノルタカメラの中島という人を探したい。その人の論文は麻酔関係の雑誌に見つけることが出来ると言われたそうである。そこで本田教授は小生が書いた呼吸と循環を探し出して連絡してきたとの事であった。この過程の中で小生の論文の引用文献の1番目の日本ME学会の抄録集の中に手書きの青柳さんの抄録があることを見つけ、現在ではパルスオキシメーターの原理の発見者は青柳さんで、耳介型、指尖型パルスオキシメーター共に最初の臨床応用を行い、発表したのは小生であることになっている。
At the end of 1986, I received a letter from Professor Yoshiyuki Honda of Respiratory Physiology, School of Medicine, Chiba University, who was famous for respiratory physiology. In the letter, he wrote that when he was attending the International Congress of Physiological Sciences held in Vancouver, Canada in July of the same year, he spoke with his old acquaintance, Professor Severinghaus of the Department of Anesthesiology, University of California. Apparently, Professor Severinghaus was researching the origin of the pulse oximeter and asked Professor Honda for cooperation.
During the conversation, Professor Severinghaus mentioned someone named Nakajima who discovered a pulse oximeter and worked at Minolta Camera, and his research paper could be found in anesthesia-related magazines, which led Professor Honda to me after he went through the medical magazine Respiration and Circulation. During the research, Professor Severinghaus found a handwritten abstract by Mr. Aoyagi in the abstract collection of the first Japanese Society for Medical Engineering, which I referenced for my research paper. Since then, Mr. Aoyagi has been recognized as the originator of the pulse oximeter principle, and I have been recognized as the first person to ever conduct a clinical application of the earpiece-type and fingertip-type pulse oximeters and published a research paper.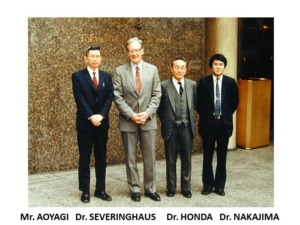 その事実を確かめるべく1987年Severinghaus教授が日本に来訪し、東京ヒルトンホテルで会った4人揃った珍しい写真である。
In 1987, Professor Severinghaus visited Japan to verify the facts. A rare photo of the four of us was taken in front of the Hilton Tokyo.
パルスオキシメーターの起源調査を行ったカリフォルニア大学のSeveringhaus教授は以下の通り論文報告を行っている。
In the same year, Professor Severinghaus and Professor Honda published the following paper and concluded:
Severinghaus JW, Honda Y. History of blood gas analysis VII.
Pulse oximetry. J Clin Monit 1987; 3:135-138
ABSTRACT. Pulse oximetry is based on a relatively new concept, using the pulsatile
variation in optical density of tissues in the red and infrated wavelength to compute arterial oxygen saturation without need for calibration. The method was invented in 1972 by Takuo Aoyagi, a bioengineer, while he was working on an ear densitometer for recording dye dilution curves. Susumu Nakajima, a surgeon, and his associates first tested the device in patients, reporting in1975.
A competing device was introduce and also tested and described in Japan. William New and Jack Lloyd recoganized the potential importance of pulse oximetry and developed interest among anesthesio-logists and others concerned with critical care in the United States. Success brought patent litigation and much competition.
REFFRENCES
1. Severinghaus J.Astrup P. History of blood analy-sis. VI. Oximetry. J Clin Monit 1986;2;270-288
2. Peterson J. The development of pulse oximetry. Science 1986; 232:G135-136
3. Aoyagi T, Kishi M, Yamaguchi K, Watanabe S. Improvement of the earpiece oximeter.Abstract of the 13th annual meeting of the Japanese society of Medical Electronics and Biological Engineering, 1974:90-91(Jap)
4. Nakajima S, Ikeda K, Nishioka H, et al. Clinical application of a new (fingertip type) Pulse wave oximeter. Translated from the Japanese. Jap J Sur 1979, 41:57-61(Jap)
---